LWRA sponsors a monthly QRP Expedition for QRP and Go Kit operators.
We meet on the last Saturday of the month usually and test out new gear configurations and deployment strategies. We meet for about 4 hours similar to sprints that are held all over the world.
Grills are always available for the lunch break before we head off to complete our normal weekend chores.
Monthly QRP Locations:
Crystal Lake Park – Lake Wales
Mary Holland Park – Bartow
QRP Expedition Goals
Test QRP radio and antennas
Test VHF and UHF radios
Test APRS setups.
---
PICTURES FROM A PAST LWRA QRP EXPEDITION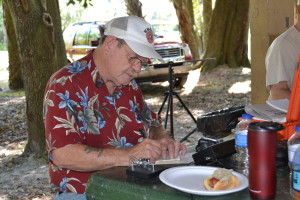 WB4KW Glen making European contact on 15 meters.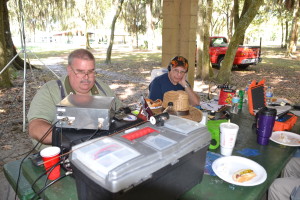 KT4WX Darrell working his go kit system.
And of course the ever popular attraction